Tampa Training: Understanding Child on Child Sexual Abuse
ATTEND A FREE TRAINING!
July 21, 2011 from 9:00 – 12:00pm at the Children's Board of Hillsborough County
 

Register at https://events.r20.constantcontact.com/register/eventReg?oeidk=a07e43nqot735e590b3&oseq=
Children in state care are at greater risk than their peers to be the victims of child on child sexual abuse. How the system of care handles the victims of such abuse and the child who has a sexual behavior problem can have long-lasting effects. This course will review the findings of the statewide workgroup for DCF and provide community specific information for child welfare workers, guardians ad litem, and attorneys to help them.  This training will focus on:
a.   Findings of the Gabriel Myers Workgroup on Child on Child Sexual Abuse
 b.   Local Resources
 c.    How the local system of Care Responds to Child on Child Sexual Abuse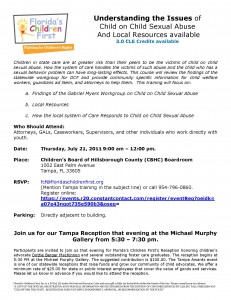 Who Should Attend:
Attorneys, GALs, Caseworkers, Supervisors, and other individuals who work directly with youth.
Children's Board of Hillsborough County
1002 East Palm Avenue
Tampa, FL 33605
To register, please click here: https://events.r20.constantcontact.com/register/eventReg?oeidk=a07e43nqot735e590b3&oseq=