Pro Bono Attorney of the Month Suzanne Judas receives The Florida Bar President's Pro Bono Service Award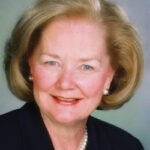 01/23/2012
By Kathy Para, The JBA Pro Bono Committee Chairwoman
Suzanne Judas is the recipient of the 2012 Florida Bar President's Pro Bono Service Award for the Fourth Judicial Circuit.
Ms. Judas is extremely passionate about pro bono work and has been depicting that passion for many years. As chair of the Committee for the Public Good in Holland & Knight's Jacksonville office, she has organized and put structure to the office's pro bono work, and has promoted that work as an important part of the values on which the firm was founded, resulting in the Jacksonville office of Holland & Knight winning a firmwide contest with 100 percent of the office's attorneys participating in pro bono work in our community.
Ms. Judas practices in the area of general civil litigation with a focus on admiralty and maritime law, media and communications and personal injury. She also practices in the area of general corporation transactions, including formation, contract matters and advising on issues related to insurance, non-competes, pensions, and sales and marketing.
Ms. Judas has spent 486 hours working on pro bono matters and helping coordinate projects in the office. She also has challenged other local attorneys to participate as well. Ms. Judas lends her talents to many local nonprofit businesses and organizations. For example, she helped solve an immigration problem for the wife of an Air Force sergeant through the ABA's military pro bono program. She also helped coordinate and assign legal health checkups for Florida's Children First and she helped find a guardian for a developmentally disabled foster child through the Guardian ad Litem Program.
Pro Bono is derived from the phrase pro bono publico, meaning "for the good of the public," according to the award instructions.
"The purpose of these awards is to encourage more Florida lawyers to freely contribute their time and expertise in providing legal services to people in their community who cannot otherwise afford those services," the instructions stated. The awards are intended to provide recognition to lawyers who have made an outstanding contribution in this area.
Suzanne Judas will attend the awards ceremony on Jan. 26 in Tallahassee at the Florida Supreme Court. Her colleagues in the Fourth Judicial Circuit applaud her pro bono contributions and this well-earned recognition.
Attorneys interested in pro bono opportunities throughout the Circuit are encouraged to contact Kathy Para, Chairperson, Pro Bono Committee for The Jacksonville Bar Association, Kathy.para@jaxlegalaid.org.