Private child welfare agencies' top employees pulling in six-figure salaries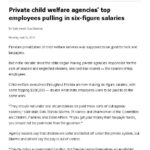 April 4, 2011 Florida's privatization of child welfare services was supposed to be good for kids and taxpayers. But in the decade since the state began making private agencies responsible for the care of abused and neglected children, one cost has soared — the salaries of top employees.
Child welfare executives throughout Florida are now making six-figure salaries, with some topping $200,000 — double what state employees used to be paid to do the same work.