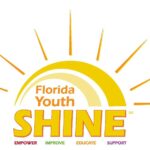 Florida Youth SHINE (FYS) is a statewide youth-driven, peer-led organization that empowers current and former foster youth to become advocates for all youth in care. FYS was founded in 2005 by Florida's Children First with the help of many key stakeholders within the child welfare community. Since then FYS has quickly become Florida's leading youth advocacy organization comprised of current and former foster youth who participate in public policy advocacy to improve child protection and foster care services on both a state and local level. Growth of FYS chapters and membership statewide is off the charts currently 14 chapters and growing!
Current Chapters: Broward, Hillsborough, Nature Coast, ManaSota, Miami, Orange, Osceola, Palm Beach, Pensacola, Pinellas/Pasco, Seminole, Southwest Florida, Tallahassee, & Treasure Coast (Vero Beach)  
FYS chapters meet locally once a month to engage in advocacy, educating members on public speaking, and making suggestions to be shared with their local community based care organizations, providers, and the Department of Children and Families. Through the help of adult supporters and mentors, FYS members learn the ropes of chapter leadership and grow into their roles as youth advocates. Florida Youth SHINE is currently funded exclusively through Florida's Children First. Please contact FCF if you are interested in the grant proposal "Taking it to the Next Level" for future expansion of Florida Youth SHINE.
Florida Youth SHINE is in need of adult supporters in all areas of the state where chapters are active. Please consider offering your talent or expertise to mentor a FLS group. To get involved with Florida Youth SHINE in your area please reach out to Geori Berman at geori.berman@floridaschildrenfirst.org.