Christina Spudeas – Executive Director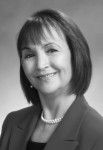 Christina Spudeas has been a long time advocate for delinquent and dependent youth in Florida. For the past two decades, Spudeas has worked tirelessly to defend the rights of children who are in the custody and supervision of state agencies or state-contracted providers. Her diverse background includes child-related public policy reform, legislative reform, and state advocacy for dependent and delinquent youth. Prior to accepting the new position with FCF, Spudeas was an Assistant Capital Collateral Regional Counsel for the Southern Region, representing prisoners on Florida's death row.
She is also a former Attorney and Regional Director for the Agency for Community Treatment Services (ACTS), where she provided direct services to children in the child welfare, delinquency, and mental health systems in South Florida. In addition to her work experience, Spudeas has extensive public speaking and training experience, including presenting to the judiciary, public defenders, state attorneys, legislators, community-based service providers child welfare, and juvenile justice staff across the county.
She has also served as an adjunct professor teaching criminal justice courses at Florida Atlantic University for more than 15 years. Spudeas is a member of the Florida Bar and Federal Bar (Southern District of Florida). She received her bachelor's degree in Social Psychology from Florida Atlantic University and her J.D. from Loyola University of Chicago School of Law.
Please Contact Christina HERE.