Howard M. Talenfeld, Esq. – President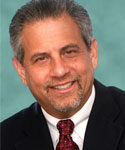 Howard M. Talenfeld is an advocate for the children. A long-time children's rights attorney and trial lawyer, he has dedicated much of his career to helping – and convincing others to help Florida's most vulnerable citizens — its abused, foster, mentally ill and developmentally disabled children.
Talenfeld successfully litigated Ward v. Kearney, a class action lawsuit to reform the foster care system in Broward County, and he won a landmark monetary civil rights settlement on behalf of six neglected and abused foster children.
He's been instrumental in obtaining funding for Florida's Guardian ad Litem Program and the Broward County Children's Services Council. In 2002, Talenfeld helped found Florida's Children First. A partner in Colodny, Fass, Talenfeld, Karlinsky & Abate, P.A., he also recruits and trains fellow attorneys to provide legal counsel to foster children statewide.
Talenfeld's goal is to ensure every foster child has appropriate legal representation for educational, general and mental health care, and developmental services. He even coaches Little League, softball and soccer in the city of Parkland. For his many volunteer efforts, Talenfeld was named the Broward County Bar Association's 2005 Pro Bono Lawyer of the Year.