Howard M. Talenfeld, Esq. – President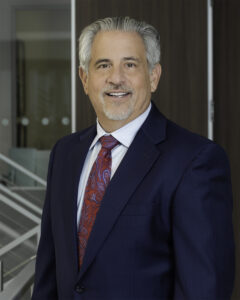 Howard Talenfeld is a leading children's rights, injury, and child disability attorney representing the needs of abused and neglected children, especially in cases of foster child abuse, child sexual abuse, child rape, and other harm and abuse of children in the child welfare system. He protects individual children and has created systemic change in how government agencies and private institutions care for those vulnerable individuals.
Since 2002, Howard has served as the Founder and President of Florida's Children First (FCF). From what started as a dream nearly two decades ago, through Howard's work and dedication, FCF has grown to a statewide advocacy organization that initiates and passes critical child welfare legislation, influences and changes executive branch policy and practice, writes friend of the court briefs, and trains lawyers representing children throughout Florida.
As a Partner in the Fort Lauderdale office of Kelley Kronenberg, Howard serves as a Practice Lead of the Justice for Kids Division, the firm's practice dedicated to providing legal services to abused, disabled, and injured children harmed at home, in child welfare and foster care settings, group home settings and residential treatment centers, as well as all children harmed by the acts of others. 
Howard began his career representing the state of Florida in lawsuits involving the foster care system, children's mental health system, juvenile justice system, state psychiatric hospitals, and Medicaid services. He has spent the last three decades representing and protecting thousands of children in cases of foster care abuse, child sexual abuse, child rape, and other harm, in child welfare settings.
Before the Florida Legislature, Howard and the FCF team are responsible for significant legislation providing for the representation of foster children by attorneys and improving Florida's child welfare system of care. Before the Judicial branch, Howard has been responsible for judicial decisions positively impacting the children he represents. Further, under Howard's leadership, FCF has broadened its work in the recruitment and training of lawyers representing children in Florida's dependency proceedings. Finally, Howard takes great pride in the creation and growth of Florida Youth Shine and increasing the participation of all youth in decisions that impact their lives.
In addition to his work with FCF, Howard chaired the Broward Days Children's Issues Team from 2000 to 2015, was a Director of Florida's Voice on Developmental Disabilities, and sat on the Steering Committee for Citizens for Broward's Children in 2000 and 2014. He was also former Director with the Youth Law Center in San Francisco, California between 1996 and 2001. He served on the Board of Trustees of the Broward Jewish Federation, chaired the Campaign Committees of Temple Kol Tikvah, was a Board Member of Hurricane Relief for Miami Foster Kids Inc., served as a Big Brother, and has coached 16 youth sports teams.
Professionally, Howard has received numerous awards, including the Daily Business Review's Professional Excellence Lifetime Achievement award in 2016, the University of Miami Law Alumni Association's Alumni Achievement Award in 2016, Lifestyle Media Group's "Leader in Law" in 2014, and the Daily Business Review's "Most Effective Lawyer" in the Public Interest category in 2013. Additionally, he received The Florida Bar President's Award in 2010 and The Florida Bar President's 2006 Pro Bono Service Award for the 17th Judicial Circuit in and for Broward County, Florida.
In 2018, Howard received the prestigious Medal of Honor Award from The Florida Bar Foundation for his exceptional achievements in improving the administration of justice in Florida.
A dual graduate of the University of Miami, Howard earned both his Bachelor of Arts degree and Juris Doctor degree from UM.