2021 TAMPA BAY AREA CHILL VIRTUAL WINE TASTING & CELEBRITY CHEF DEMO (12.8.21)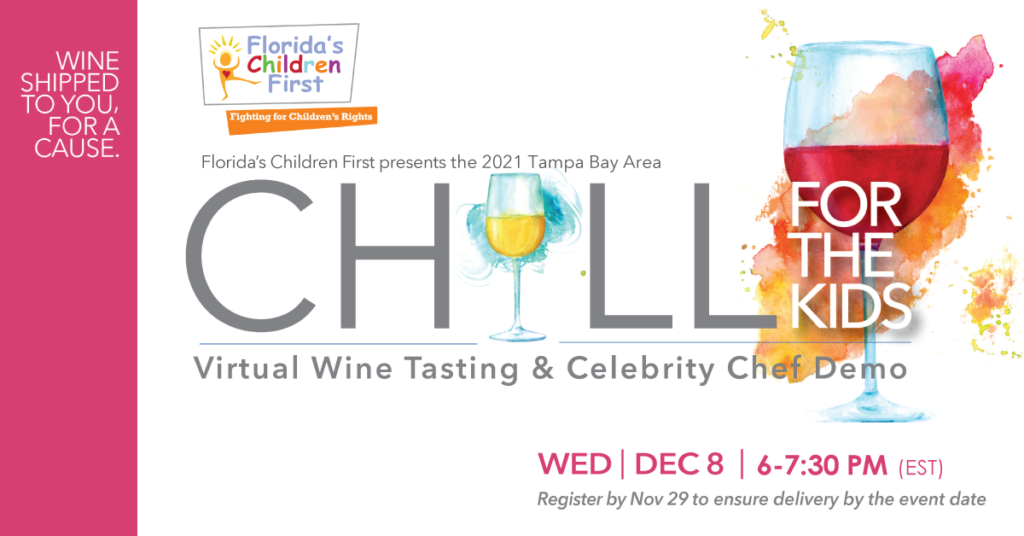 Chill out with fine wines shipped to you to support our work helping kids who have been in foster care, are disabled, at-risk or experienced homelessness, and our youth advocacy organization, Florida Youth SHINE.
  Enjoy a global wine adventure as we deliver wine to your door, then take you on a curated private tasting of premium (90+ rated) wines. Learn what it takes to create these acclaimed varietals as a master wine expert leads us through Napa's renowned Etude, Stags' Leap, and Beringer vineyards and select wines from the acclaimed Penfolds collection. "Chef to the Stars" Jerome "Rome" Brown will demonstrate a deliciously simple pairing recipe which will be emailed to you in advance, and someone will win the wonderful "Wine ICONS" door prize.
Learn more about our critical work, escape by Zoom to beautiful Napa Valley, and toast to creating a brighter future for kids from foster care.
• General tickets $150 / $275 (2 or 4 bottle sets)

• Sponsorships & program book ads start at $500 (2, 4 & 6 bottle sets)

• All proceeds to benefit Florida's Children First